My Digital Nomad Adventure
LONDON: 2022
We started our trip flying into London November 12, 2022. Our daughter celebrated her birthday on the plane ride over and much to her embarrassment, we asked the Delta flight attendants to help us celebrate. They were delighted to assist with a song and class of champagne.
We landed in London around 7:30 am U.K. Time (1:30 am our time) and since none of us had gotten a wink of sleep on the flight over, we were all pretty loopy. We grabbed an Uber to East Croydon, the London suburb where we had booked an Airbnb. We endured a rather uncomfortable hour-long Uber ride into the city, the three of us packed into the back seat with backpacks on our laps since our three large suitcases barely fit in the boot.
This was our first time in London. Though the weather was cold and rainy at times, Kevin was sick for the first few days (thankfully not COVID), and our missing COVID test had me tense and scrambling, we were still able to fit in a lot of sightseeing.
We bought the London Pass and Sydney and I were determined to make the most of it. We took the Hop on Hop Off bus and walked so much and saw so much that week: London Zoo, St. Paul's Cathedral, Westminster Abbey, the Hop on Hop Off Bus tour throughout the city, the British Museum, the National Gallery, Kew Gardens and London Tower among others. The Other Boleyn Girl is one of my favorite historical novels, and seeing where Anne Boleyn was beheaded was astonishing. Sydney and I also took a tram to Wimbledon where she rode a robot horse.
It was one of the early days in the trip and we were strolling past Westminster Abbey, the bells began pealing and I wanted to pinch myself. We had made it!
We were staying outside the city but easily learned to navigate the train and subway system.
I was technically on vacation the first couple of weeks so there was little work to do, but I did have a couple of loose ends to take care of and the internet in our Airbnb was awful, with speeds that were typically below 10 mbps. The one zoom call I tried to place to the office was a disaster as a result.
FILEY UK
From London, we took the train several hours northwest to Filey where we were house-sitting for two energetic and sweet beagles: Woody and Buzz. This was our fifth housesit through TrustedHouseSitters.com and the first that Sydney had accompanied us on.
Filey is a fishing town that now serves as a popular summer vacation spot, but since it was late November so it was blustery cold. Still, we walked the dogs to the beach every day.
Filey Beach is a long beach with short cliffs stretching out at either end of the inlet. Charming old stone and brick homes face the ocean and a small castle sits on the cliff above. A few shops were open selling chips, coffee, scones and other snacks. I almost felt like I was in a Doc Martin episode.
We enjoyed the downtime after our hectic week in London. The dogs were sweet and made us laugh with their antics. We've never seen dogs woof down food as quickly as those two!
With good wifi, I was able to get some work done. However, it was also at this time that I discovered I was locked out of my Paypal and Instagram accounts as they were detecting unusual activity. I had failed to set up a VPN before leaving and now found myself jumping through multiple hoops trying to set one up and reinstate my accounts. I'll write about the lesson I learned there later.
PORTUGAL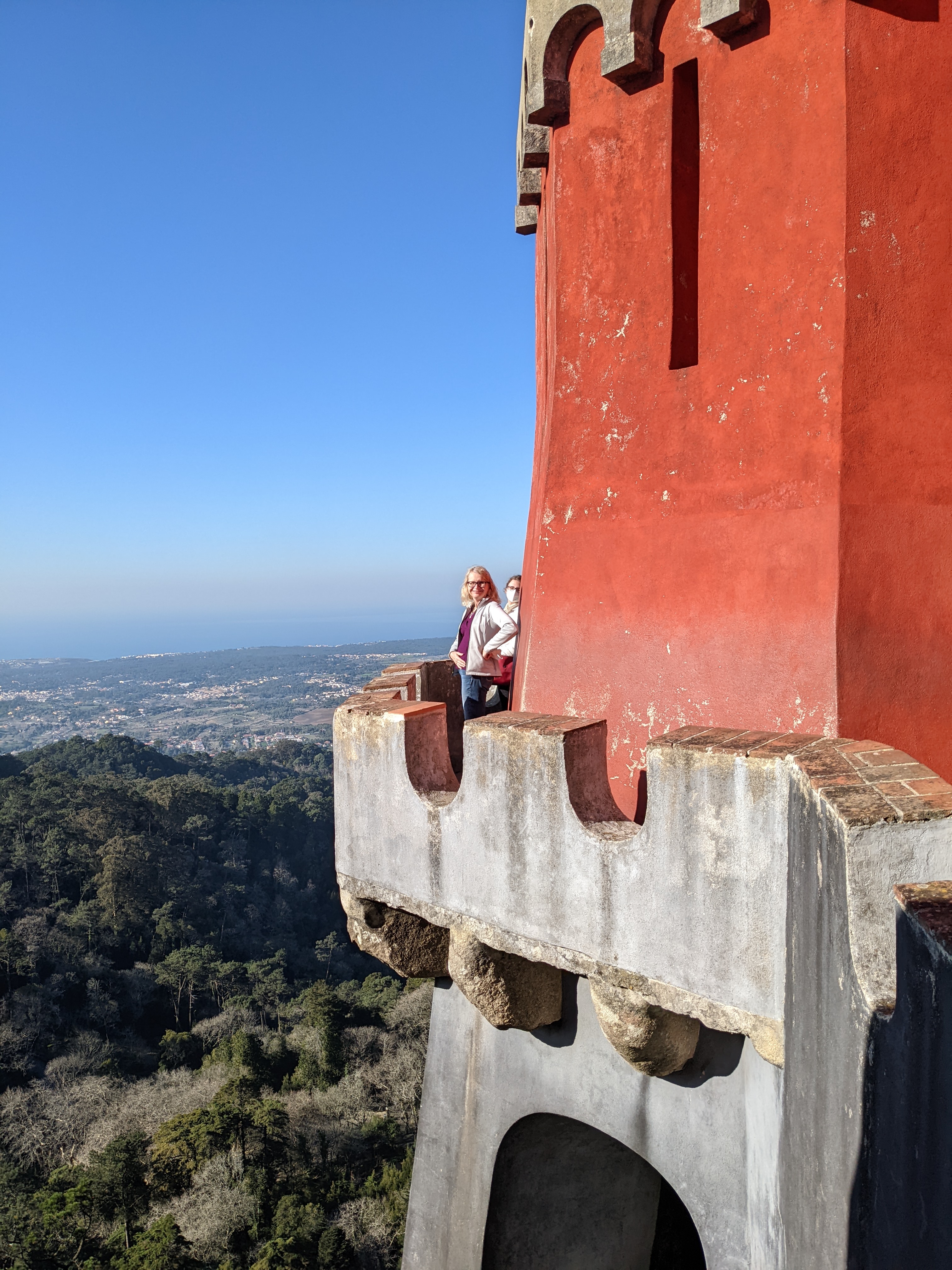 We flew into Porto Portugal from Paris on December 5, 2021. It was an easy flight, and we were prepared with our COVID test results from the test we took at a pharmacy in Paris the day before. We grabbed an Uber to Vila Nova de Gaia, which is just across a bridge from the historic part of town. Our Airbnb hosts met us at the apartment, which turned out to be fairly spacious. They helped us lug our heavy suitcases up the narrow tall flight of stairs, and soon after, we headed out to find some dinner. We walked to the Luis I Bridge. It was a cool evening and many pedestrians were strolling across the bridge which was lit up.
I couldn't stop smiling.
We made it to Portugal, a place I had been reading about and dreaming of visiting for a couple of years now. We stood at the railing of the bridge taking in the view. To the right of us was a cobblestone street leading to the Monastery of Serra do Pilar, lit up and glowing over the scene. Houses and buildings rose nearly vertically from the banks of the Douro River. Even in the dusk we could see that some were painted bright colors while others were crumbling from neglect.
We made our way down impossibly steep cobblestone streets, winding back and forth, down to the river lined with restaurants. We walked up and down the bank. Couples and families were walking along the wide promenade or sitting eating at restaurants where heaters made it warm enough to sit outside.
Our meal was delicious and affordable, the service was friendly, and even more so the atmosphere was everything I had expected.
We spent several days in Porto, exploring the cathedrals and historic sites. Most mornings we walked to the local bakery one block from where we were staying where we loaded up on wonderful pastries and bread for just a few euros.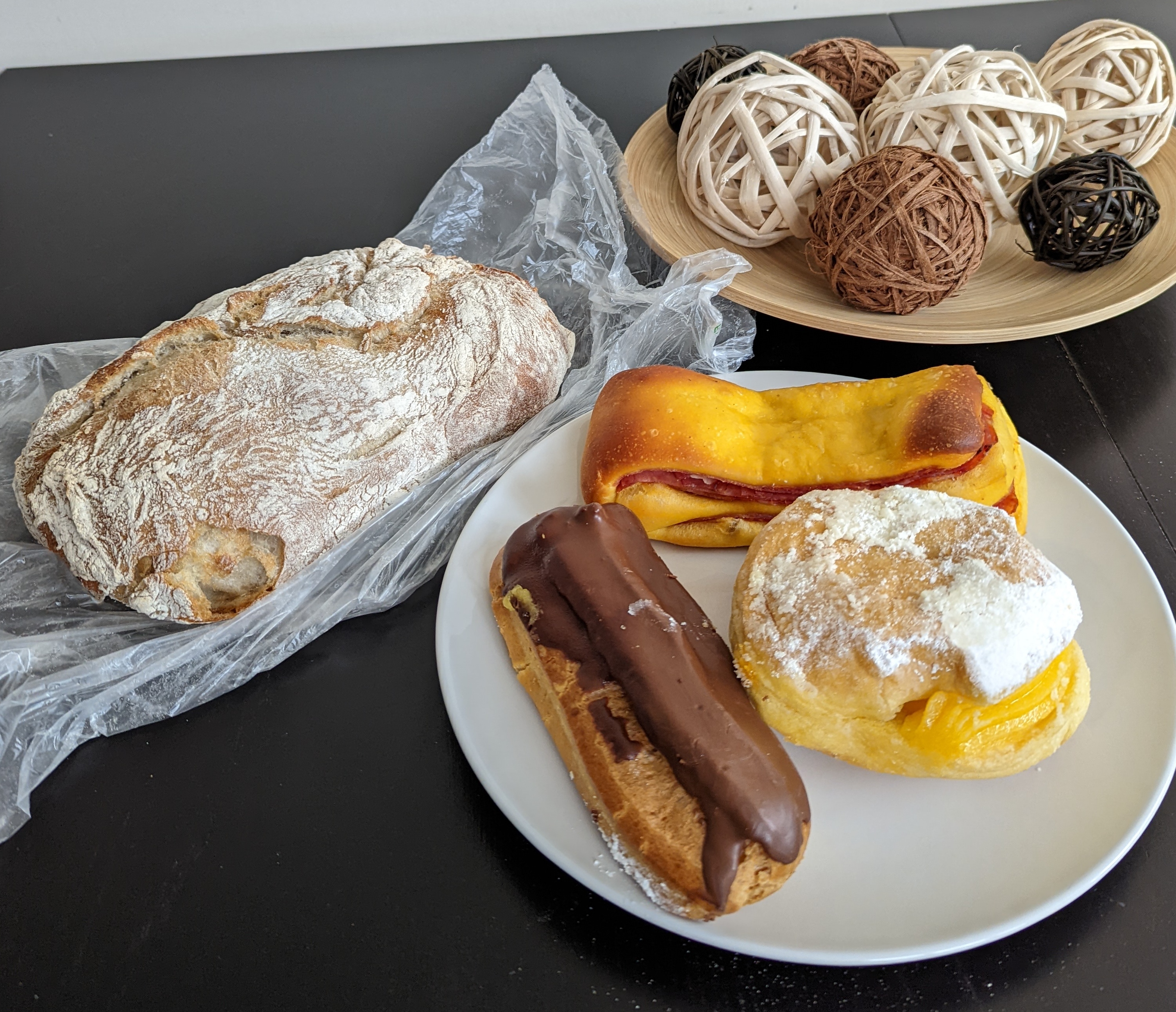 We found a wonderful bakery just a block from our Airbnb and it was our first stop in the morning. This beautiful loaf of bread was just 1 euro and the pastries totaled 2.60 euros! Thankfully we were doing lots of walking to help work off all the carbs!
We generally ate one meal a day in a restaurant and then either cooked or picked something up. Meals were delicious and for a tourist area, affordable. Sydney and I often shared an entree. As an example, Sydney and I shared a delicious chicken and sausage dish with rice and grilled vegetables while Kevin had steak. We finished it off with chocolate mousse. Even with a beer and glass of wine the bill came to about 50 euros.
When shopping, we struggled with a few staples: the mustard and ketchup we picked up were different, as were the meats we picked up, which were brightly pink compared to what we're used to.
A highlight of the week was the day we took a guided tour to a park north of Porto. Our guide Luis was personable and loquacious. I wasn't crazy about the drive as we neared the park. I grew queasy as the road hugged steep drop offs and at times I wanted to snap at Luis the way I would at Kevin on these kinds of roads: "Stop talking and just drive!" But I kept my cool and trusted his years of experience on those roads to get us there safely and back. He did.
As the jeep climbed the car toward a village through which we would enter the park, Luis pulled over to talk with a woman who was trying to herd her sheep down the road. Soon he and Kevin hopped out of the car to help her get them moving in the right direction.
The walk through the park led to a water feature. We learned about how eucalyptus has been replacing the native cork trees. It grows much faster and has become a valuable cash crop. However, as an invasive species it is disrupting the natural ecosystem and contributed to the horrific fires that consumed parts of Portugal in 2018.
The hike was followed by lunch in town. It was a feast with a variety of Portuguese dishes and green wine. After lunch we walked around the village, where most of the residents are in their 70s and 80s, and where many follow a more traditional life. As one example, he showed us a large square stone pit and asked us what we thought it was. I guessed it was a water trough for livestock. No, he explained, it's where they do their laundry. Even with washing machines, many prefer to hand wash laundry he said.
One of the things we all enjoyed most about the day was learning about life in Portugal. We talked politics, health care and many other topics. Luis openly shared his perspective and we felt like we got a glimpse into life there.
Another highlight was when we stumbled upon a restaurant, O Solar Do Patio. We had passed by and took pictures of its cheerful yellow facade before we decided to stop in for lunch. It turned out to be an excellent choice!
The owners greeted us warmly and we learned about the history of the building they had recently (and beautifully) restored. They helped us pick out some wonderful Douro wine and our lunch choices.
The food was delicious. One of us had the best teriyaki chicken we've ever tasted: crispy and deliciously seasoned. Another had a lovely mushroom polenta and the third dish was a shrimp risotto with perfectly cooked shrimp. The meals came with soup or dessert (plus coffee) and two of us had a pleasant squash soup while the other chose the heavenly chocolate gelato - and, of course, had to share.
We enjoyed the welcoming atmosphere, good food and incredible history of this lovely space that has been in the family for over 300 years! We got to hear about the secret room they uncovered in the renovation. You'll have to ask them about it when you go.
A few general observations about Portugal:
We were never rushed at restaurants. We often had to try to get the attention of our server to request a check. We knew that at times we must have seemed out of place when we ate quickly before heading on to something else.
The food courts at the malls we visited in Porto and Faro were elegant. We had ample choices and meals were served on china dishes. Wine and beer were also available.
We often felt cold indoors. We were there in the winter and even in the sunny Algarve, as night fell we would get chilly. Homes don't have central heating and they don't appear to have a lot of insulation. Some had electric wall heaters, space heaters, fireplaces or pellet stoves. In one Airbnb, I must have neglected to put on the "heating" filter when searching for a place to stay and the home had no heating of any kind. We had to stay bundled in blankets all evening and fortunately only had two nights there!