How to Find Places to Work Remotely as a Digital Nomad
"How do I find a place to live?" It's one of the top questions you may have once you decide you are going to work from anywhere.  
Working remotely can take different forms, of course. You may buy a home and live there full-time, but away from an employer's office. I did that for many years while I worked remotely for two different employers, as well as for myself. 
A popular option these days is to travel and work from various locations so you can experience what it's like to live or travel in different places. The past few years I've been working "home free" or "location independent" from various places in the US and overseas. 
Here, I'll focus on finding lodging if you will be moving from place to place.
I'm not going to focus here on where to live (I'll tackle that separately in the future) but instead on how to find housing once you've decided on places where you'd like to experience remote work.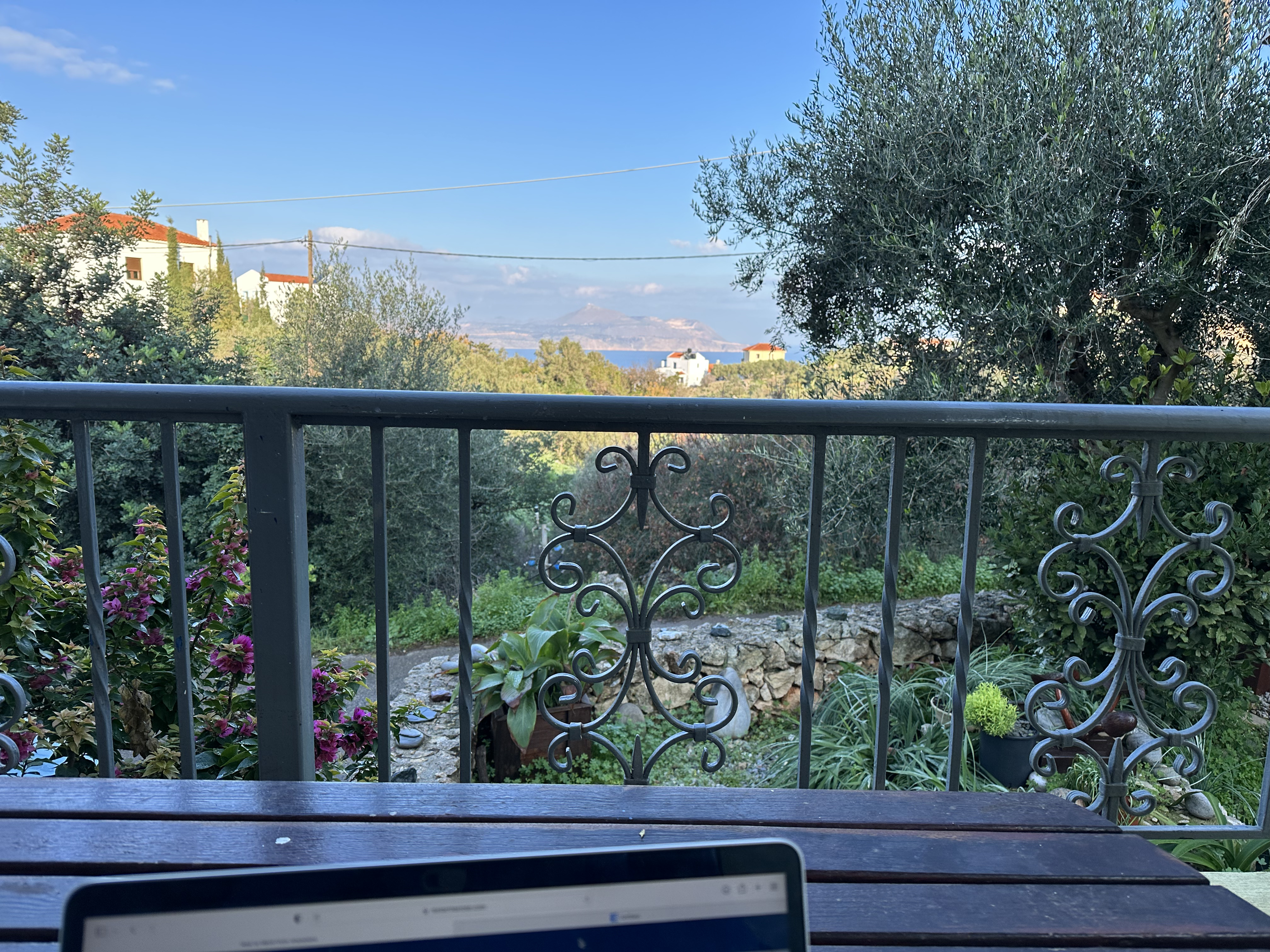 My daily view while house sitting in Crete Greece.
Top Remote Work Housing Considerations
Here are my top three considerations when searching for places to work remotely:
Cost: The first consideration is budget. Housing costs are very likely going to be the most significant item in your digital nomad budget so you need to be clear on what to expect in the locations you plan to visit.
How much can you afford to spend? What (if anything) are you willing to sacrifice to save money? Airbnbs, hotels and short-term rentals can get expensive fast, especially in popular locations. Lisbon, Portugal is a popular destination for digital nomads, for example, but in recent years it's become very expensive, pricing out many residents as well as visitors. 
Internet Speed: Internet speed and reliability can be a major factor in your ability to successfully work remotely. When I traveled in an RV from Florida to Missouri while working remotely, for example, I found fast, reliable internet was a constant challenge. I had two cell phones with different carriers and three hotspots with other providers.
I still found myself scrambling for a decent connection in certain locations. 
Comfort: If you work online, you know how important it is to have a comfortable chair and desk or table, good lighting, and a quiet space. Finding the right setup can be challenging. I've been in some places with really high-end desks and chairs, and others that were dark and uncomfortable. Barking dogs, construction, loud neighbors, street noise or even electrical outages can make working remotely more stressful. It's not always avoidable, but you do want to think about what you can and can't tolerate when you read reviews.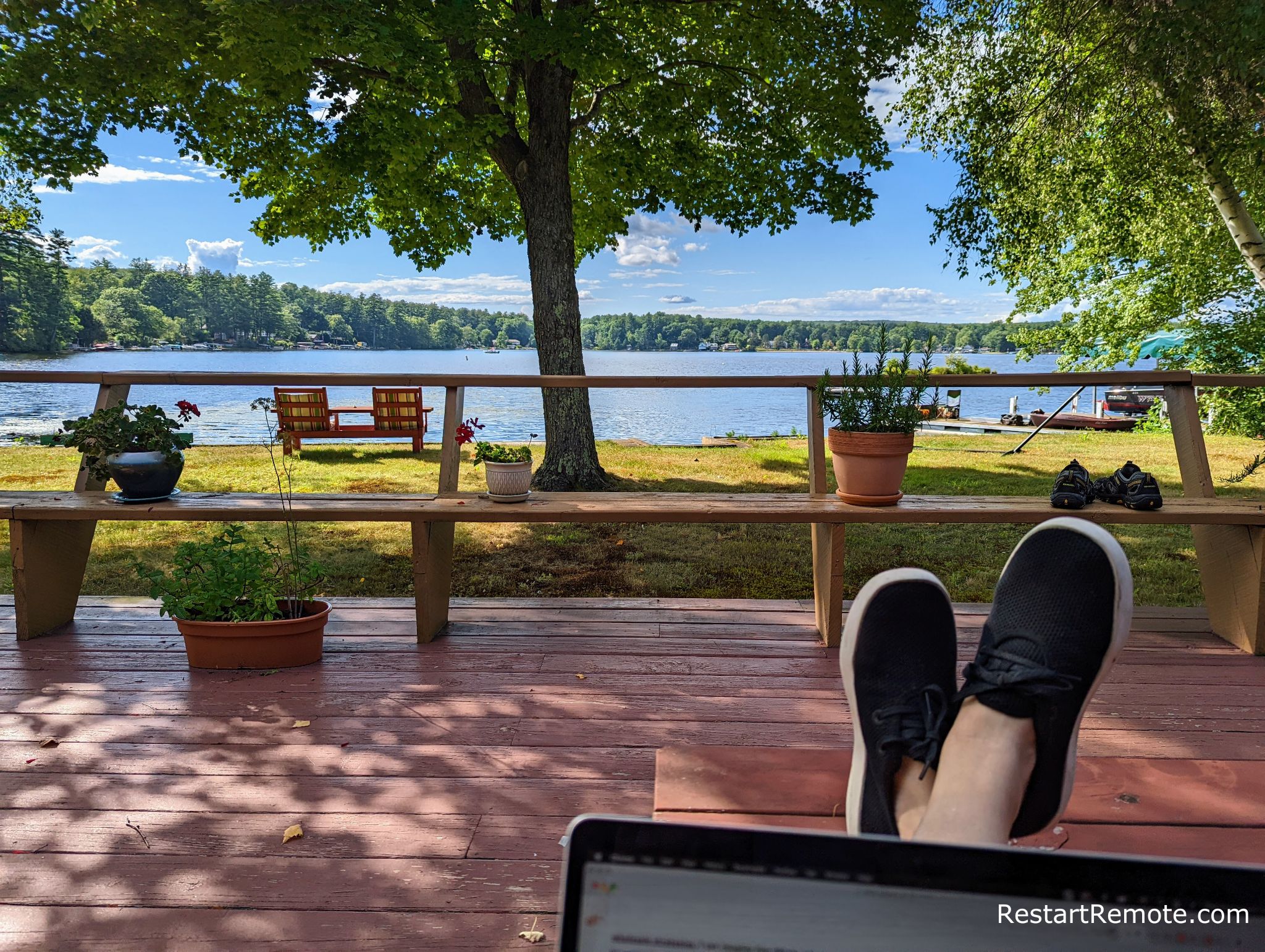 Working lakeside in New Hampshire
Short-Term Housing for Digital Nomads and Travelers
Here are popular options for finding a place for your next remote work adventure. Later, I'll share some resources that will help you dive even deeper into these options. 

Airbnb: A popular platform for travelers, Airbnb lets you use filters to find places with amenities you need as a remote worker, including a dedicated workspace and high-speed internet. That said, listings can often be inconsistent. As an example, we rented an Airbnb in Porto Portugal and I found the internet speed was wildly erratic: dropping from nearly 100 mbps to less than 2 mbps in a matter of seconds. It made it difficult to work, and Zoom calls were a crapshoot. 
Booking.com: I recently started using Booking.com to book lodging when I took a vacation to Norway, and I'm a convert. I like the fact that the cancellation policies are very flexible, and that it offers a variety of different types of properties from hotels to hostels to homes. Another thing that's nice is you can drill down and see ratings from customers for the wifi connection. (I prefer to see an actual wifi speed, but ratings can be helpful.)
Unlike Airbnb where you typically have to pay at least half upfront, with Booking.com you can often pay at the property and the app is great for confirming details. (Tip: Once in a while you may have to pay in cash when you arrive. Check your booking details before you get there!)

Booking.com also has a loyalty program, which Airbnb does not. Overall, I'm likely to check Booking.com first for many of my future stays. 
FurnishedFinder. A retired nurse I met on a hike in North Carolina told me about this site. It's designed for nurses and health care workers who need furnished rentals while traveling on assignments. You do not have to be a healthcare worker to use the site, though. It seems to list properties that other sites like Airbnb or Booking.com does not.  
Nestpick bills itself as the largest platform for furnished rentals with over 200 partners in 3000 cities across the world. It's an aggregator site, and shows rentals from Vrbo, Booking.com, Sublet.com. ErasmusU, Student.com, and others. I haven't used it yet, but plan to check it out next time I book a long-term rental. 
House sitting. I've worked remotely while housesitting in a number of places in the USA and in Europe. This has been one of my favorite ways to work remotely. I've stayed in some beautiful homes, met great pets and their pet parents, and enjoyed living like a local. Read my detailed guide to housesitting here. 
Hotels: For shorter stays or when checking out a new location, a few nights in a hotel can be a great choice. Most hotels will have lots of reviews that can be helpful for picking a place. Staff can be great for getting tips about the area. Internet is usually free, though that's not guaranteed. And speed can vary. (I stayed in a hotel in Portugal where I kept getting kicked off the internet, and barely got enough speed to check my email. ) 
The hottest trend in hotels in the USA is extended stay hotels. Skift shares data from Lodging Econometrics that shows pipeline projects for extended hotel stays is exceeding all other types of properties being built. These properties typically offer some type of kitchen facility, and space to make longer stays more comfortable, so that's good news. However, hotels generally are a more expensive lodging choice, so many digital nomads stay in them sparingly. 
Local real estate agents. I've heard from many digital nomads that they find a place for a couple of nights in their new location and then seek out a local real estate agent who can help them find a place to rent for a longer stay. Local agents can often help turn up better deals than online booking sites, and you get to see places before you commit. That said, this could be a risky strategy in a popular location or during peak season. 
Housing Designed for Digital Nomads and Remote Workers
There are a variety of platforms that focus on accommodations for remote workers and digital nomads. The number of options catering to this type of traveler is growing, and will hopefully continue to bring innovation to this space. 
Flatio features furnished accommodations with flat-rate pricing that includes utilities and wifi. It features deposit-free short-term and mid-term rentals, Erasmus housing, and coliving spaces. Not all properties list internet speed though. However, it features a Nomad Inspector's Club where qualified influencers can verify properties and stay for free. 
NomadStays.com offers nomad-ready accommodations with independently tested Wifi. Properties have in-home workspaces, laptop desks or access to nearby coworking spaces. It also offers transparent pricing with no hidden charges. 
RemoteBase promises digital nomads and remote workers up to 76% off a free newsletter that highlights mid-term lodging deals of 1-3 months. (There is a premium paid version as well.) While I haven't used it yet, I always find places I'd love to check out. 
Noad is a home exchange platform designed for digital nomads. It calls itself "The home exchange network for remote workers." Members can stay in listed homes for just the cost of the cleaning fee. I have participated in home exchanges through another platform in the past, and when I have a home base I can exchange again, I will try this out.
Swapdesk bills itself as the home exchange platform for professionals. It's used by major employers like Pinterest, Spotify, and Slack. It offers direct swaps, swaps for points, and you can also host someone in your home to earn points. Note you must have a verifiable work email address to join. (It currently offers a free beta sign up until September 20, 2023.) 
Anyplace is a platform that features furnished apartments with fully equipped workspaces, and gigabit speed internet for rentals of thirty days (31 days in some locations) or longer. Currently it offers housing in New York, Los Angeles, San Francisco and San Diego. These are not low-budget locations or properties, but if you want a great work set up and you're willing to pay for it, you may find a great place to live and work. 
Selina is accommodation + coworking + wellness + local experiences. It offers lodging at a variety of price points. When I searched their listings for Cuenca, Ecuador, for example, options included everything from a be in a 10-bed community room for $477 ($535 with breakfast) to a suite for two people for $2223 a month ($2702 with breakfast). For remote workers who want to plug into a digital nomad community, it looks like an interesting option. 
More Resources for Finding Places to Live While Working Remotely
How Much Does It Cost? 
NomadNumbers features a detailed, in depth guide describing how much they have spent in 5+ years of nomadic travel. Their housing averages less than $1000 per month. 

Our Freedom Years is one of my favorite Youtube channels featuring full-time travelers Stephanie and Jillian. They've stayed in over 40 Airbnbs and they offer a detailed spending report, including how much they have spent on housing. Heads up: in a live video in August 2023 they shared that Airbnb costs have risen substantially. 
Airbnb Warning
Why We Left Airbnb. This video by Retirement Travelers raises some important warnings. While most of my Airbnb experiences have been positive, I've recently had a few not-so-great experiences and this video was an eye opener. (Note that it appears Airbnb no longer penalizes guests who cancel more than three times a year though I have not confirmed this directly with Airbnb.)
Did I miss your favorite platform for booking lodging while working remotely? Let me know here.